Feb 1949 MODERN SCREEN magazine Esther Williams Cover
Feb 1949 MODERN SCREEN magazine Esther Williams Cover
View Images
Price: $50.00
Availability: in stock - free ship within USA
Prod. Code: 13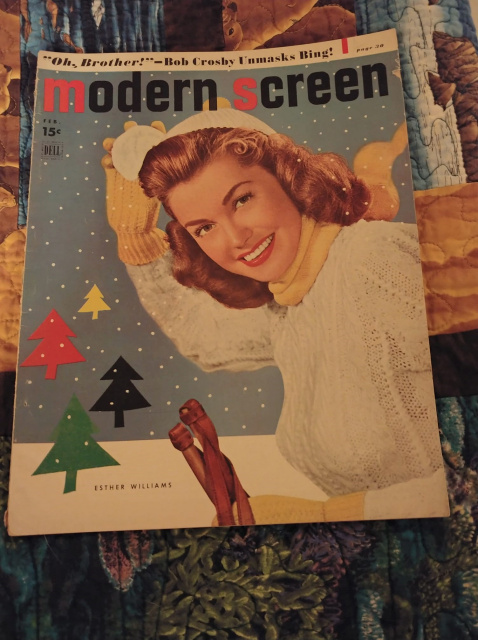 Condition of this vintage magazine is very good in view of its being 73 years of age. There are 116 pages which are well intact within the binding. The pages are intact and clean but the front cover is partially leaving the spine The interior pages have no markings or damage.
Many pictorial articles and many full page size pictures which include color ones and B&W ones. Among these large photos: beautiful Color full page picture of Esther Williams & her mom along with a multi picture pictorial article of 6 pages. Full page pretty color pic of Janet Leigh. A full page color pic of Deanna Durbin + article "She Can Do It Again." And there are many other various size pictures like wedding picture of Fred MacMurray and June Haver. Full page color pic of Jeannie Crain with husband Paul Brinkman. Lovely full page color pic of Jennifer Jones + a B&W pictorial article. Color picture of Bob Hope & Family along with multipage B&W pictorial article. Other pictorial articles on: Rita Hayworth, Ingrid Bergman, Montgomery Clift.
This magazine is full of great pictures and stories. The shipping by USPS is included in the listed price. The pages have good smell and I like to mention this in old paper products. I have always been upset if a seller did not mention this issue when listing magazines and books. I will always let you know about this.. I have bought many magazines through the years for my personal collection and this is one of my collection. I try to accurately describe each vintage magazine as much as possible. If you have specific questions not covered here, please email me.