POP SINGER'S PLACE
FRONTof Pop Singer's Store
A JULY 3RD, 2008 MESSAGE FROM POP SINGER'S GRANDDAUGHTER
"Hello, I happened to be surfing the net on my lunch break today and put my Grandfather in to see what would come up and low and behold, up came your website. I was so excited, I could hardly control myself when I saw the pictures of his drugstore from the 1950's. My mom used to take me there when I was a little girl. My Grandfather, Pop (Simon) Singer lived for his memories of those Bandstand days. He was so proud to be a part of it. All the kids used to look up to him and come to him for his advice. I guess they looked at him as a "Grandfatherly type". He was oh so special to me as I was his first grandchild and he spoiled me rotten!! I have some memento's he left for me when he passed away in 1979, one of which includes a wristwatch that Dick Clark gave him and is inscribed on the back and a lighter from Connie Francis that plays "Who's Sorry Now", along with some telegrams from Dick and Connie and some books personally inscribed to Pop from Dick. I hope you print this story on your website so that everyone who knew my Grandfather knows how proud he was to be a part of it all and lived each day remembering the good times he had with all the kids from Bandstand!! Thank you all for remembering him!!
Lynne (Grandaughter of Pop) and Ruth (Daughter of Pop)"
Letter from Pop Singer to his granddaughter, Lynne
Pop in his daily element inside his store.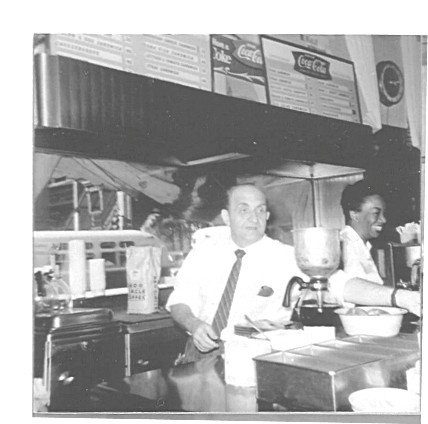 Pop Singer with Marian Driscoll and her friend Sigrid (Marian on Right)
Arlene Sullivan and Kenny Rossi with Pop Singer in a booth at his store/fountain-- courtesy Marsha's vintage magazine collection. I added the colorful frame around this picture.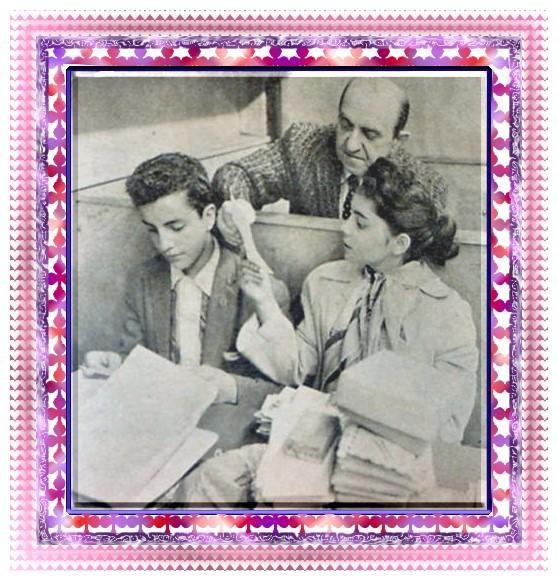 Pop Singer with Regulars Arlene Sullivan and Kenny Rossi
Frani Giordano sipping a soda at Pop Singer's Fountain/Pharmacy
Pop Singer and Regulars