Ladies Home Journal November 1965
Ladies Home Journal November 1965
View Images
Price: $40.00
Availability: in stock - free ship within USA
Prod. Code: 19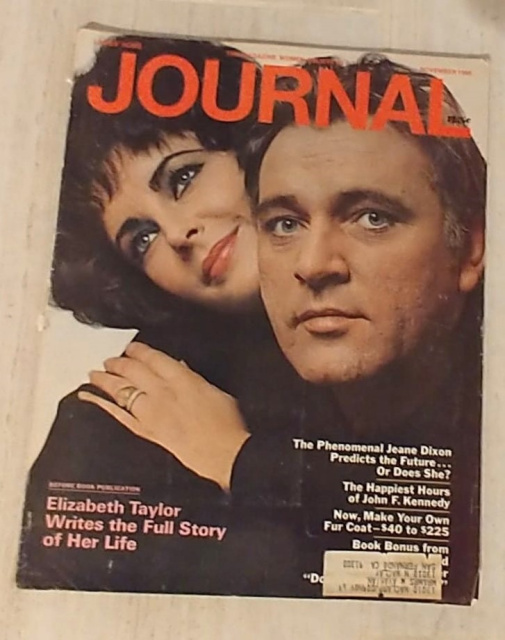 You are viewing a wonderful oversize Ladies Home Journal which measures 10-1/2 x 13-1/2 inches and has both covers and 172 pages. Highlighting the cover are Elizabeth Taylor and Richard Burton and within is a multipage pictorial article on them.
The pluses of this decades old magazine is the very good plus condition for its 58 years come this November 2023. The pages have good paper smell and that is something I really value in vintage magazines. It has been kept in a dry and smoke-free home. The pages are intact and incredibly clean and without damage. The spine has minor issues but all the pages are tightly intact. There is a mailing label on the bottom right corner of the magazine. This is just one of a very large personal collection of magazines that I have had for over 30 years and will be listing some of them in the months ahead.
Ladies Home Journal always had wonderful recipes, great ads, interior decorating, stories to read with special illustrative art, fashions, etiquette, and much more. One of the ads I really enjoyed within is a Reddi-Wip full color page of 30 storybook dolls from around the world. You could purchase the dolls by writing Reddi-wip and sending a dollar for each doll. That was a bargain even in those days and so many women had storybook doll collections.
The price you see includes shipping by Priority Mail within the USA. I do not ship Internationally. If you would like additional information concerning this magazine, you may contact me at my email address in the contact section of the index.