Vintage Seamprufe Bed Jacket circa 1950s
Vintage Seamprufe Bed Jacket circa 1950s

View Images
Price: $35.00
Availability: in stock / free shipping
Prod. Code: 102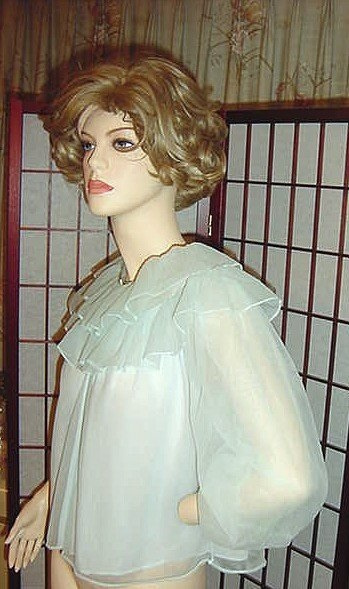 LABEL = Seamprufe
COLOR = Heavenly Blue
SIZE = stated SM which is a small and best fit would be bust size 34
FABRIC = label stated 100% nylon and it is double layered sheer

CONDITION = excellent. You will love the beautiful double flouncy row of neckline pleats and the sheer puffed sleeves which end with a lovely satin edging. This is an ultra-feminine bed jacket. I is near perfection in condition. There is just one tiny thing to inform you of and that is at the neckline the closure is by two tiny buttons--the bottom one being blue nylon covered and the top one is a liight pink which has no nylon covering but when it is closed through the loop closure, it is basically hidden by the volumes of nylon and you would have to be looking well to even notice. It is not a distraction to even be concerned about. The fabric has been stored in a dry, smoke-free environment so it is good fabric smell. You could not ask for more. I wish it were my size. Email if you need further data

The price you see is the full price, as I pay shipping within the USA by either first class mail or Priority mail. I do not ship internationally.