Excellent Vintage late 40s or early 50s Van Raalte Myth Gown
Excellent Vintage late 40s or early 50s Van Raalte Myth Gown

View Images
Price: $120.00
Sale Price: $100.00
Availability: 1 in stock - free ship in USA
Prod. Code: 108
/font color red>SALE PRICE LIMITED TIME ONLY ON THIS VERY SPECIAL ITEM.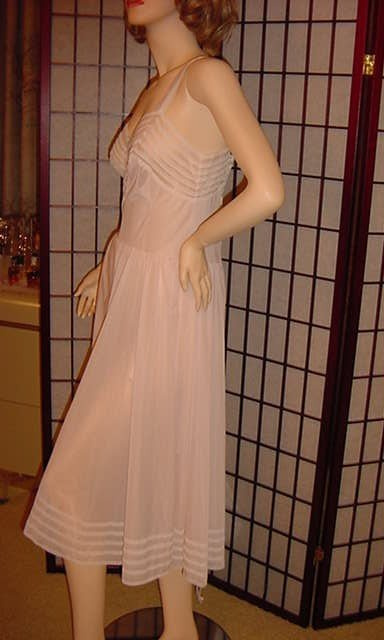 Van Raalte was one of the best names ever in lingerie and was extremely popular in the 40s and 50s. Their MYTH line was especially beautiful and few lingerie items from that time are still available, especially in excellent condition. This lovely pink gown with chevron rows of lace on the bodice and deep rows of lace at the bottom of gown make it an especially feminine sweep and the wide shoulder straps at the top of bodice are very attractive. It is priced accordingly, as you probably won't find another like it. This gown is in excellent to like new condition.
COLOR = feminine pink
SIZE = stated 36
FABRIC = Nylon
LENGTH shoulder to hem = 46.5 inches
LENGTH underarm to hemline = 36.5 inches.
WAIST = up to 30 inches
The price stated includes free shipping within the USA.