SOLD--SOLD--Designer Sig Zane Vintage XL Exotic Purple Maxi Dress
SOLD--SOLD--Designer Sig Zane Vintage XL Exotic Purple Maxi Dress

View Images
Price: $99.00
Availability: SOLD - free ship in USA
Prod. Code: 118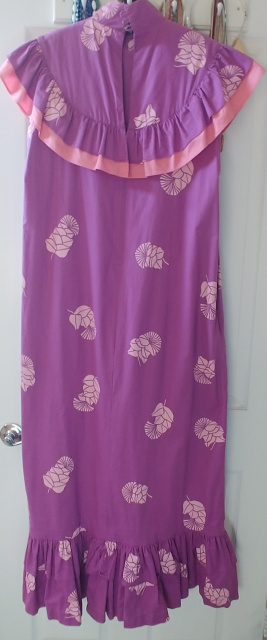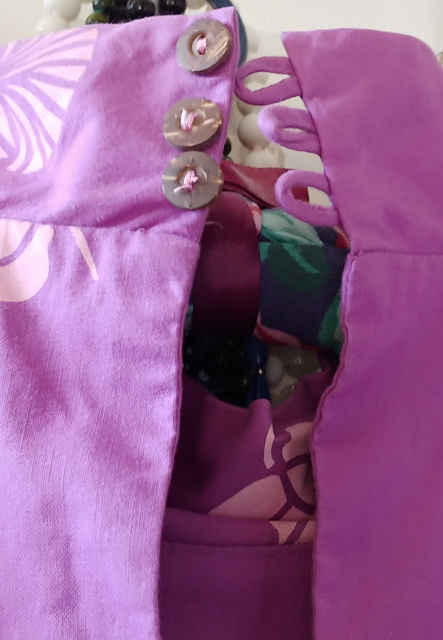 This designer dress is an exceptionally well made dress in evety way. It would be great for a Hawaii party, a cruise trip, a patio party.
Sig Zane has been designing clothes in Hilo, Hawaii since the 70s and he specializes in wonderful Hawaii florals and special details in the dresses themselves. This one you can clearly see all the unique features. It has a slit opening in the top front, below which is a zipper down to the waist area. The neckline is special with a high collar with 3 frog button closure, The top is a flounce capelike feature down to the bustline. And the dress ends in a deep double flounce. A slit style pocket is in the side seam on each side of the dress to hold slim items
LABEL = Sig Zane made in Hilo, Hawaii
Size XL (measurements to follow below
Length 59 inches
underarm to underarm across = 22 inches and doubles to 44 inches
bust and down to waist approximately 46 inches to 50 inches and continues to be 50 and 50+ down through the rest of the dress.
FABRIC not stated but I am certain it is 100% medium weight cotton broadcloth which is machine washable in cold water and cool/low tumble dry as that is the fabric that Sig Zane often uses.
CONDITION: Very good plus previously worn vintage with good fabric smell and from smoke-free home. The inside of hemline has just a few small areas where the hem could use slip stitching, but the total flounce hemline has been holding well in place just as it currently is so unless those small areas bother a person of seamtress abilities, you could just ignore them.