Excellent Vintage 50s Vanity Fair Full Slip - Size 34
Excellent Vintage 50s Vanity Fair Full Slip - Size 34
View Images
Price: $50.00
Availability: in stock ~free ship in USA
Prod. Code: 117
Vanity Fair was a name in slips that you just couldn't go wrong with in the 40s/50s/60s--and it has prevailed through the years and one can still find Vanity Fair items in the stores today. However, I believe it would had to find many slips as pretty as the vintage slips and it is especially true with this quallity slip with very pretty lace and in such good condition.
Label = Vanity Fair
timeline 1950s
Color =Creamy Light Beige
Label Stated Size 34
Fabric = Trico All Nylon - made in USA
Length shoulder to hem = 36* inches<.li>* Adjustable straps which can add or detract some length
Length underarm to hem 27 inches
CONDITION: Excellent - like new. Don't think it was ever worn
Good fabric smell
NOTE: The price you see is the total price, as shipping within the United States is included in the price. I do not ship internationally.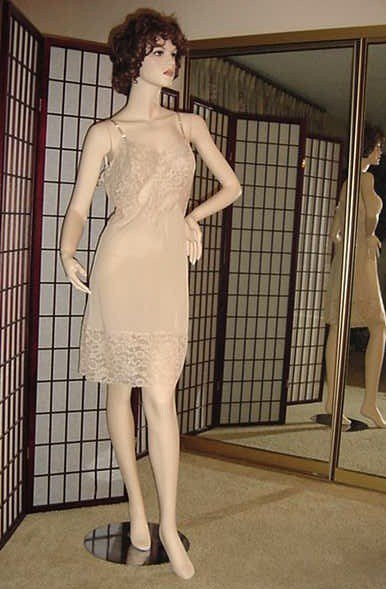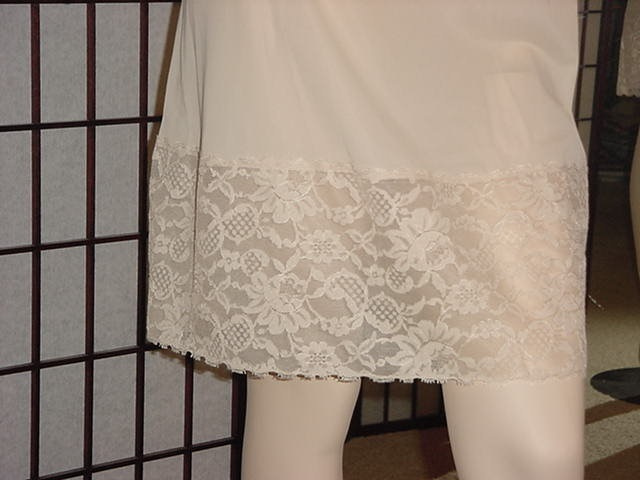 FEATURES: Lots of lace with full bodice lace and a deep hemline lace of a depth of 7 inches.