Coral never worn Vanity Fair nightgown size 32
Coral never worn Vanity Fair nightgown size 32
View Images
Price: $45.00
Availability: in stock - free ship in USA
Prod. Code: 123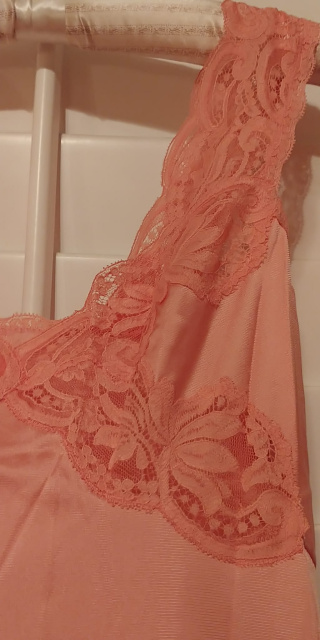 You are viewing a beautiful coral vintage nightgown from the 1960s on the label Vanity Fair. This gown has never been worn. I do not launder items and try to leave them in the condition in which they are found so new owner can handle in their suitable way. Usually preferred method is a cool water rinse and drip dry which will remove storage wrinkles and folds. It had obviously been kept in a smokefree home and in a dry lingerie drawer. You will not be disappointed in this gown. From the just luscious bodice lace down to the 98 inch sweep at bottom, it will make you feel ultimately feminine and fetching. Wearing this will truly be dreamland night-time.
LABEL = Vanity Fair - made in USA
FABRIC - All Dupont Nylon
SIZE = stated 32 but measures 32-34.
LENGTH = 52 inches

There is no defined waistline as it drops gently from under bust outward and downward, ending in a grand sweep of 98 inches at hemline. I do my best to report any areas of concern and only after examining gown several times did I notice the smallest 1/4 inch to 1/2 inch area at machined hemline that could use a stitch or 2 if it bothers you, but I would personally leave it be as it will get lost in that large sweep at hemline.

The price stated above is the total you pay, as shipping is free within the USA. No international shipping and no overnight shipping. I ship by First Class or Priority Mail, whichever is appropriate to the product.