Vintage 50s Lucite Clamper Gold Confetti Bracelet
Vintage 50s Lucite Clamper Gold Confetti Bracelet
View Images
Price: $55.00
Availability: 1 in stock - free ship within USA
Prod. Code: 109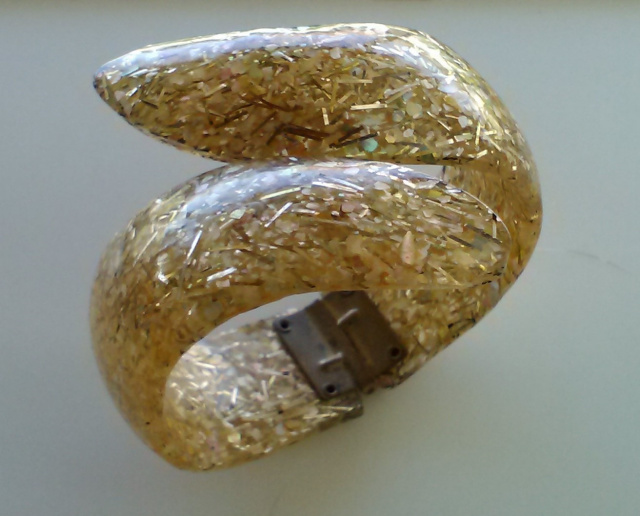 This beautiful clamper (hinged) vintage 1950s bracelet is sparkly pretty with various size and shaped confetti and glitter in gold tones inside the lucite. My wrist measures 6.5 inches and this bracelet fits me just great. Width is 1-inch lucite but when on wrist after it wraps artfully around your wrist, the widest look is 2 inches.
The clamp is in very good condition and the overall appearance of this bracelet is excellent. They are becoming harder to find all the time and you will truly have a unique bracelet that you will not find in contemporary jewelry. I have worn it and received many compliments. I am sure you will as well. These confetti bracelets are real blasts from the past.
The price you see is the final price, since shipping within the USA is free to buyers. I do not ship outside the USA and I do not overnight ship any items.