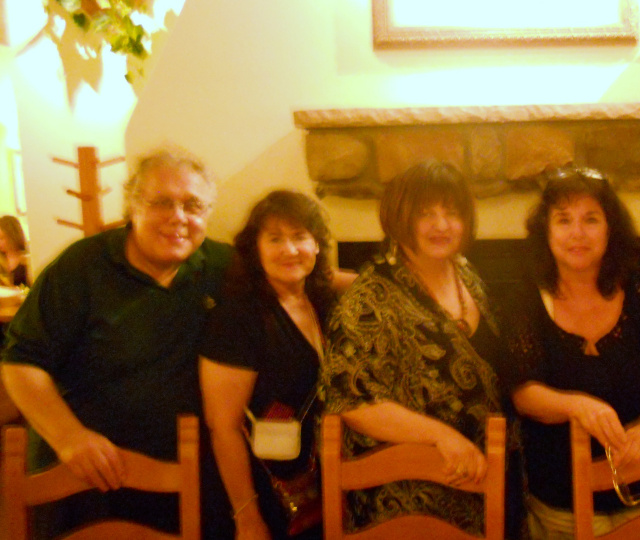 Above picture is courtesy Diana Benero from her trip to Philly and Wildwood this July 2012. The picture is some blurred and I believe Diana said it was because her camera battery was about to give out. Left to right: Richard Spada, Toni Kay, Carole Scaldeferri-Spada, and Diana Benero. Almost every summer, Diana returns to Philadelphia and visits with Cousin Carole and Toni Kay. She also spends a number of days at the Jersey Shore and revisits her memories of when she was a little girl growing up and helping her folks with the hotel they owned in Wildwood close to the beach. The beach is in Diana's blood and it's so fun to talk with her about those happy days of hers.
As most of you know, Carole & Diana are not only first cousins, but they were American Bandstand Regulars who danced on the show and at one period of time, they were both attending the show and even in the same dance contest. They have many memories of those early American Bandstand years.
Not long after Diana's returning home from a 2 week stay at the Jersey shore, she made a trip to Southern California and we got to meet each other and spend two full days together having California fun. Since we have been in communication for a number of years, we felt like old friends and got along famously. We spent Sunday, August 12 at Disneyland (the real Happiest Kingdom). A special treat was to again eat at the Blue Bayou Restaurant there. Then Monday, August 13 we went to Malibu. The highlight of that day was our visit to Paradise Cove in Malibu--the film location for the movie GIDGET and also where The Rockford Files were filmed. The cafe there is a real special place right on the sand and I'll write more about that when the prictures arrive from Diana. Everywhere we went there, people were so nice to us and I can't help but believe that Dick Clark's presence was near us. There was simply a special aura around us. We couldn't have been too far from Dick's home in Malibu. Return to the blog in a few days, as I will have pictures and more about the two days spent with one of the sweetest, kindest people you could ever meet--Diana. Indeed, she reminded me of a little brunette Gidget. We had triple digit heat in Southern California so Disneyland was a very warm place, but Malibu was about 20 degrees cooler and that was a real relief. We are looking forward to more meet-ups in the future and explore more of Santa Monica, Beverly Hills, Westwood, Hollywood, and other wonderful spots in California. There is so much to do out here--and Diana and I are both not only California Girls now but also West Coast Ladies!