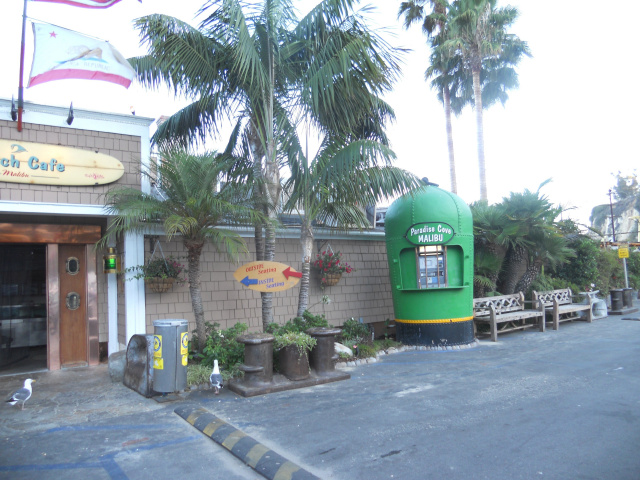 above picture taken by Diana Benero 8/13/2012. Here's a link to a wonderful page that has professionally done pictures of this wonderful location ~
Paradise Cove
. Below are some more pictures that Diana Benero candidly shot on 8/13/2012, when we spent some fun hours here.
You might be asking yourself what Malibu has to do with American Bandstand...well let me explain. Not only has it been the long-time location of Dick Clark's home, but it also was a location for the filming of Gidget with Sandra Dee, who was married to Bobby Darin who performed on American Bandstand...wow...now that's pulling it all together in a roundabout way. In addition, I have had the good fortune to become friends with American Bandstand Regular Diana Benero. I recently spent two full days with her--first doing the Disneyland scene and then the Malibu/Santa Monica scene. We hope to have more times together and bring Northern California Girl and Southern California Girl together to give you a travelogue...lol. Diana spent her growing up summers at the Jersey shore where her folks owned The Surf Hotel in Wildwood, so the beach has always been in Diana's blood and every year she re-visits her memories there. It was only natural then that beach girl (I call her little Gidget) would want to spend part of her trip at the coast, so we headed off to Paradise Cove, Malibu. Paradise Cove Cafe sits right on a private beach in Malibu where the parking is $30, but you can get a validation with your meal--and that meal is reasonable and tasty. I had fried shrimp and Diana had Parmesan Crusted Halibut. We had a window seat to the sand and then to the shore and after lunch we walked out on the sand, took our shoes off and put our feet in the water. An added bit of interest is that The Rockford files were also filmed here. It was a real trip for us to spend the day amongst happy people and California beach people have that certain something. Even the seagulls seemed to have extra pizzazz and one decided to light atop one of the newer cars there and do a slip and slide routine. He was caught in the act, but I didn't have my video camera so Diana snapped a still shot of the gull (we'll just call him Jonathan) whose slip and slide routine set off the car alarm. When the owners came out, they started laughing just like we were. If you find this Malibu connection interesting, stay tuned for a Gidget blog soon and more pictures taken by Diana while we visited this beautiful area on a sunny August day.
ADDENDUM 8/29/2012...Apparently the movie "Pajama Party" (1964) with Donna Loren (you remember that singing doll!) was also filmed at Paradise Cove. You can see the film clip on Youtube. I am going to buy the movie, as I hope there will be more scenes we will recognize. And in case you feel you'd like to one day go to Paradise Cove and especially to the Paradise Cove Cafe, you can find a very nice youtube video titled "A Walk Around Paradise Cove." It reminded me very much of a great day that we had at the location on another date in time.