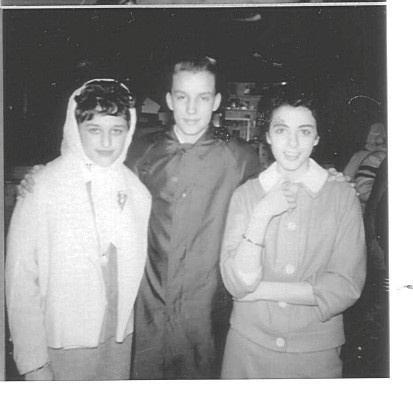 As part of the Terry Tolas collection, I have just received this nice picture with Terry Tolas to the right of AB Regular Joe Wissert and Terry's friend Anna to Joe's left. One of the fashions that the girls went for big time in the 50s were head scarves and Anna here looks very pretty in her head scarf--reminds me of of the 6 or more pictures of Arlene Sullivan on my website where she often sported this particular fashion accessory. I especially like the one below of Arlene (picture courtesy Marian Driscoll).
Scarves were not only worn to help keep the elements away from our hair in the fifties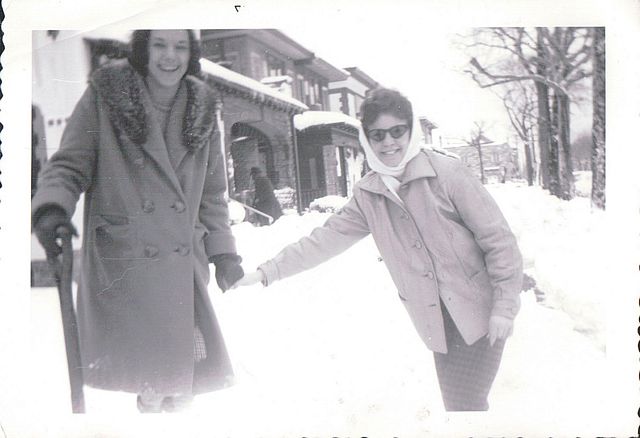 (Diana Benero with friend in the Philly snow),
but also to cover hair rollers, and to keep hair in place on convertible rides. It was not uncommon in the 1950s to see Roman Catholic ladies wearing hats or head scarves in church. The movie stars embraced head scarves as well and here's links to just a few who helped encourange women to go buy particular scarves of beauty.
Audrey Hepburn always made a fashion statement and so it is with the head scarf as well
~~
Grace Kelly in lovely floral scarf sort of like Arlene's
ADDENDUM 9/4/12: I mistakenly copied the wrong link and Grace Kelly was showing Audrey...so here's Grace!~~
Marilyn Monroe sporting a cute headscarf in 1953
And who can forget the Rosie the Riveters from the 1940s
. And how many of you remember calling headscarves bandanas? Hope you enjoyed this little bit of fashion nostalgia--it's about the fun memories here.