"She acts sorta teenage, just in-between age
Looks about four foot three
Although she's just small fry, just about so-high
Gidget is the one for me"
Sung by James Darren in the 1959 film
Some days back when posting about the trip to Paradise Cove in Malibu with AB Regular Diana Benero, I promised I would do a blog topic on GIDGET...so here it is...nothing fancy but harkens back to my teen years and movie going experience so is very special to me...as I know it is to Diana. The above picture is from a scrapbook I made of the movies I went to see in the late 1950s. I was so surprised that my Mom saved it through the years. It is so very simplistic (I was only 15 at the time), so my comment was: "XXXX (excellent)--well the x's were to represent a 4-star movie which was my highest rating. The date I saw it was July 24, 1959, with my best friend, Sandee. Renewing those memories on Sunday, August 13, 2012, at the location site of the film was really a feeling hard to describe. We were teens again--on the beach--viewing the same cliff area under which Moondoggie (James Darren) and Gidget (Sandra Dee) met and puppy love started.
We, along with millions of girls worldwide, had a crush on James Darren after that film. I am sure many a teen guy had a similar crush on cute-as-a-button Sandra Dee.
So what does Gidget mean--it means "small girl." I wondered if there were a meaning for Moondoggie, but there was not --just the name created for the book character later played by James Darren in the movie. I think we all came to think of Moondoggie as meaning cute surfer guy.
When I was with Diana and after seeing so many of her pictures growing up at Wildwood, I realized she would be the perfect definition of Gidget--a small girl with a natural gravitation to sand and sea, best represented to her as her beloved Jersey Shore. She spent her summers there every year and that is why during the summer months, she was not seen on the show American Bandstand during that time. She was helping her mother out at their hotel right close to the beach in Wildwood--The Surf Hotel.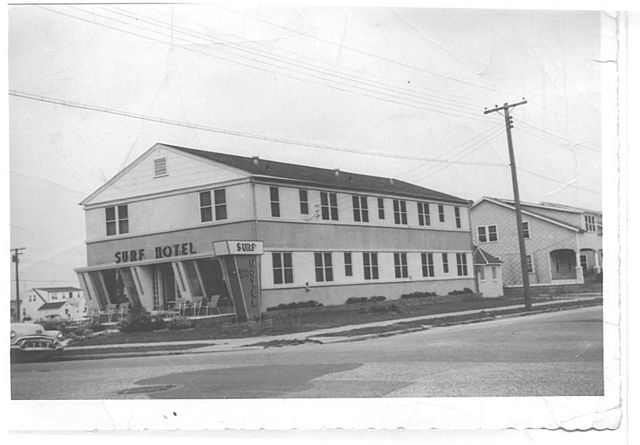 Here she is looking pert in her one-piece swimsuit and her cute hat, looking very much like a gidget should look.